People say of Ekaterina that she was formed out of "warm melancholy". Perhaps it is because she was born on the banks (riverside) of the Volga in Samara, September 13. Summer is practically over and autumn hasn't really started yet. Somewhere in between..
Ever since she was a child, and to this day, Ekaterina has been looking for inspiring moments and a kind of tragic beauty that reveals itself to us in fleeting moments. She started writing to express her deeply ingrained feelings – but words alone weren't enough for her one day. Something was missing – and so began her journey in photography with her unique self-portraits. It does not follow any specific style or form. Is it perhaps because of the month of her birth, September, that make these photographs so special?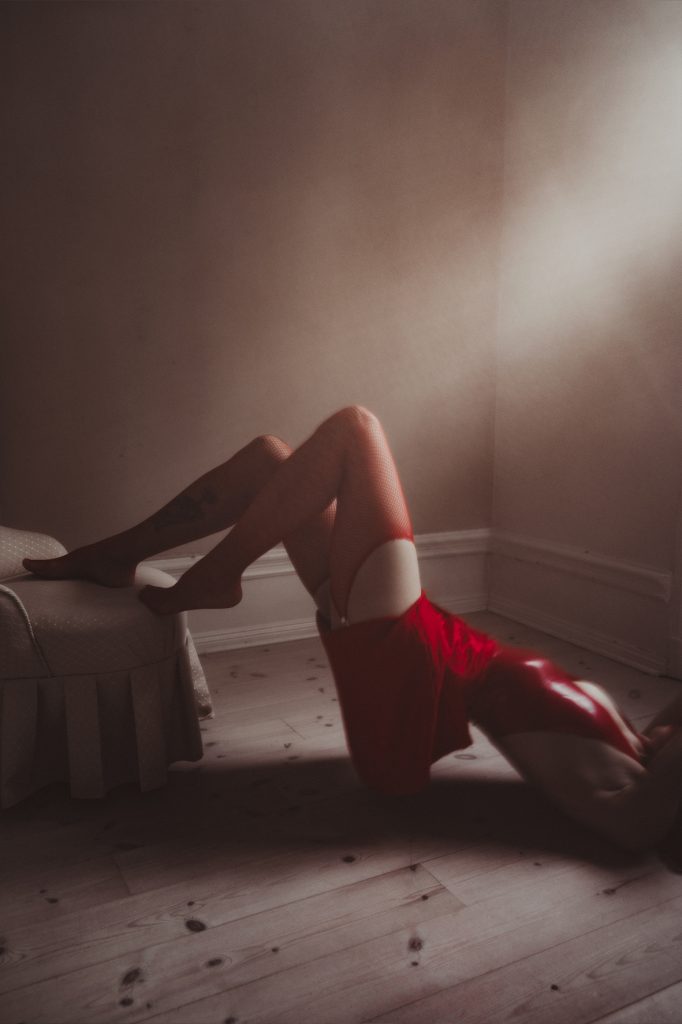 Series (one): © 2021 Ekaterina Iakiamseva – WT: Red Latex
Series: © 2021 Ekaterina Iakiamseva – WT: Red Latex
Ekterina's fascinating self-portraits from this series "Red Latex" (working title) captivate and subtly show a melancholy beauty that casts a spell over the viewer. We can hardly avoid her soulful photographs. She shows us how different feelings and emotions can be. Her photographs, in this beautiful ambience radiate a special kind of intimacy. Her work is subject to an independend and unmistakable visual aesthetic.
The reduced setting, the selected clothing and the "red" signal color used direct our focus specifically on the main motif without letting our gaze wander around uncontrollably. The color aesthetics in her photographs are perfectly coordinated and give the whole series a lovely touch. She uses a combination of red latex and sensual underwear to trigger targeted emotions. The result are photographs that show a fascinating symbiosis of feeling, femininity and sensuality on the one hand and subtle eroticism on the other, whose essence is more a suggestion than a concrete photographic representation of reality. The diffuse mood in the picture and the lack of concrete and clearly recognizable lines and facial features underline this effect of the "imprecise" in her pictures and allow our imagination as a viewer to run free.
PRODUCTION
Title: WT: Red Latex | Year: 2021 | Print: 40×30 cm | Ink: Epson Ultra Chrome K3 Pigment Ink | Paper: Hahnemühle Fine Art Photorag (Ultrasmooth), 305 g / m² | Framing: Museum framing, thickness: 20 mm, museum back cardboard, acid-free | Glass: Clarity 92% / museum glass | Series: 7 single shots | Edition A: x (+1 AE)
Series (two): © 2021 Ekaterina Iakiamseva – Make me a prince?
Serie: © 2021 Ekaterina Iakiamseva – Make me a prince?
The series "Make me a prince?" von Ekaterina gives us deep insights into a world of private and profound emotions that arouse fascination and desire alike. Above all, her finely crafted and precisely composed color aesthetics catch the eye. As if we were observers inside a different reality that breaks with our usual visual habits – that renounces conventional color design. From a close-up perspective, Ekaterina shows us intimate and authentic details of a world, only to move them into the distance again thanks to the cool color aesthetics.
Perhaps it is also a bitter-sweet look into a passing world that is nevertheless full of beauty and grace? The arrangement and the image composition allow us, as spectactors, to immerse ourselves in feelings of whatever kind, which leaves us deeply touched and thoughtful.
PRODUCTION
Title: WT: Red Latex | Year: 2021 | Print: 40×30 cm | Ink: Epson Ultra Chrome K3 Pigment Ink | Paper: Hahnemühle Fine Art Photorag (Ultrasmooth), 305 g / m² | Framing: Museum framing, thickness: 20 mm, museum back cardboard, acid-free | Glass: Clarity 92% / museum glass | Series: 7 single shots | Edition A: x (+1 AE)